We will carry all the special memories you gave us through the years to come, to hold in our hearts, to cherish forever. May God always be with you to forever live on as our angel in heaven. May God give our daughter, Caitlin, our families, and I the strength to carry on, holding you in our hearts forever, never to let go of the special husband, daddy, son brother, and friend that you really are.
Reflections and Eulogies
Michael and I met at our place of work. He was really shy. He was hesitant on asking me out because I was just out of a divorce. Because of this, he thought I would say No. He finally got the nerve up to ask me and I said Yes! We dated a short time, and then married on July 10, 1992. Shortly after, Michael joined the Army. This was something he wanted to do since childhood. Michael went through Basic Training and AIT at Fort Leonardwood, Missouri. Once out of training, he would later be stationed at Fort Leonardwood. This move would be something new to both of us because we had never been so far away from our families.



Once we got in base housing, Michael began his training. His MOS was Combat Engineer. I began working at a daycare as a caregiver, just outside the base. Everything was great! We shared many wonderful memories to treasure during his four year term in the Army. Michael was awarded several medals while in the Army.



Michael went to Texas for training for a month, and I traveled to Georgia to stay with family while he was away. Michael called me and told me that he and some of his buddies had gone out drinking. This worried me. I didn't want him to start drinking because it can destroy so many lives.



After his enlistment was over, we decided to return to Georgia. This would be a big transition for us, especially Micheal. Michael became depressed after leaving the military, began to drink - something that he had started while in the Army. He was not sure where he wanted to go. Michael worked, skipping from job to job, not sure what he wanted to do next. I went back to work at the job where we first met.



In August, 1997, Michael and I found out that we were going to be a mommy and daddy. We were so happy! We had been trying for years, and I had had two miscarriages - one in 1992 and another in 1996. My doctor took me out of work because of the medical problems due to the pregnancy. Our daughter Caitlin Leighan Hope Beasley was born on April 8, 1998. She was 19" long and weighed 8 pounds 1 ounce. I thought she looked just like her daddy. She is our "Little Angel Girl." We gave her the nickname "Catie Bug." Michael and I were so blessed to have such a healthy beautiful baby girl. Time goes by so quickly when they are babies.



In 1999, Michael decided to go to school to become a Police Officer. This was also a dream of his from childhood. He attended mandate school from June until August of 1999, and graduated as Police Officer. He was happy. He stated that this would be his career. Michael took pride in the badge he wore. He was a friend to everyone and was always there to help anyone in need. Michael was very professional with his job, and knew his job well. Michael worked for Buchanan Police Department in Buchanan, Georgia. He worked the night shift from 6 p.m. until 6 a.m. Everything seemed to be going well.



Michael would still drink but he seemed to have it under control. At times he would get depressed and drink more. I would sit down and talk to him and things would get better. Michael had depression. I'm still not sure why. Micheal had everything going for him - a wife that loved him and always will, a beautiful daughter, a great career - but I am not sure what happened. On January 14, 2004, Michael had been drinking alot. For reasons I will never know, he lost his life by his own hand. On this day, our lives were torn apart. I think maybe if I could have helped him more, perhaps done things different, but I know I can't turn back time. If only we could.



Michael was such a wonderful person. He had the sweetest smile. He is missed by many. Our God in Heaven gives us strength to carry on, to forever hold and love you in our hearts always.



Denise Beasley
Gifts and Donations
Cards can be sent to P.O. Box 674, Tallapoosa, GA 30176.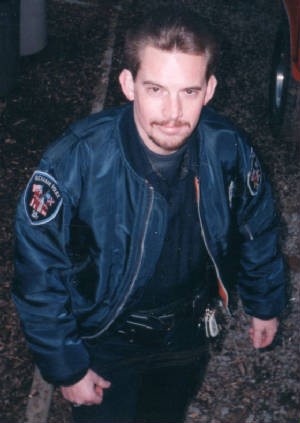 Michael leaves behind a wife of 12 years, Denise Beasley, a daughter, Caitlin Leighan Hope Beasley, his father, Lawrence Beasley, his mother, Bonnie Beasley, four brothers, Roy Bolden, Richard Bolden, Bobby Bolden, Jack "Shot" Crocker, a sister, Michelle Thompson. Michaels police badge #2706 was retired on the day he was laid to rest, January 16, 2004.
In Memory of Michael Beasley
We can no longer hear your sweet voice
See your beautiful smile
Embrace you in a hug.
But yet, you are with us everyday.
Our hearts are filled with your love.
Our minds with the sound of your voice.
We will be forever connected.
You brought us love, joy, and happiness.
You are always in our hearts.
You will be forever missed.
To our angel in heaven now,
We love you always,

Denise, Caitlin, Daddy, Mamma, and Family.